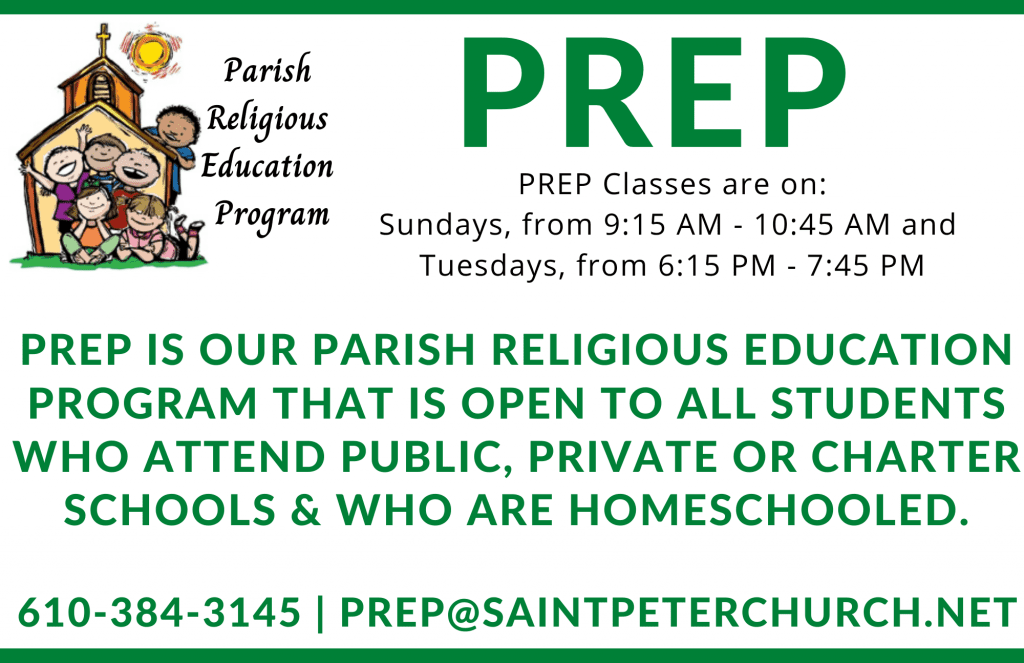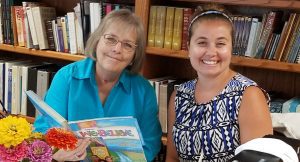 We welcome you and your children to the Parish Religious Education Program (PREP). This program is open to all registered families of St. Peter Parish. Our office is currently located in the Parish Office.
Last year was challenging in many ways, but our dedicated group of volunteer catechist made the switch to zoom virtual classes flawlessly!
We are hopeful that our classes for next fall (2021) will be held "in-person" at the Pope John Paul II Regional Elementary School which is located directly across from the church.Our faith is a precious gift entrusted to us all. The Church, the people of God here on earth, has the responsibility to carry out God's command to teach all nations and to spread the Good News. In order to do this, mutual cooperation of church, parents, teachers, and students is of vital importance. The Church provides parents with additional help, the Catechist.
Catechetical instructors enrich, enlighten and strengthen our faith. However, Catechists are only aides to the parents. No young person will really grow to the fullness in faith unless they see a living faith at home. Of all the gifts you can give your children, a firm and solid faith, witnessed by you and encouraged by us, is the best of all. Therefore, we ask the cooperation of the parents to aid us in our work and to join in prayer with us as we ask God's blessings on all we undertake in His name.
Homeschooling Families
If you have a child who will be preparing to receive a sacrament this year, please contact the PREP office by phone or email ASAP. We want to be sure you receive important timely information.
Parents of 1st Graders
If your child is enrolled in Public, Private school or is being Homeschooled – This is the best time to begin their formal Religious Education as well. If they are enrolled now they can be sure to receive their Sacraments in a timely manner. Again, call or email the PREP Office for more information.
Thank you!
---
PREP Registration for 2021/22 School Year
Re-Registering Families – Should have received an email with a link to a JotForm to register electronically.
You have also received an email with a PayPal invoice, you may pay through Pay Pal or mail a check.
Your registration will be processed as soon as we receive your payment.
New Families – below is the link to the JotForm to register
There is also a link for the Tuition schedule and the Family Handbook
All Classes Filled on A First Come Basis – Priority is given to Volunteer Catechists and Aides
All NEW students not baptized at St. Peter Parish must provide a baptismal certificate at registration.
Tuition payments are expected at the time of registration. Tuition sheet on the website as a link
Please call or email the PREP office with any questions.
Thank You!
Emergency Closing Info
Will be posted on the top of this page of the website and a message will be on the PREP phone
Please note: St. Peter PREP does not follow any school district schedule.
Email: prep@saintpeterchurch.net
Phone: 610-384-3145
Director of Religious Education – Patrice Peterson
Assistant – Krystal Snyder